Homeopathy has long been provided on the National Health Service, but is it now in terminal decline?
Even though homeopathy is to some extent tolerated within the NHS and despite there being three homeopathic 'hospitals', it is clear that it is in decline. We know that these hospitals have been branching out into other areas and have even been re-branding themselves to move away from their reliance on homeopathy.
But just because it's been a part of the NHS since 1948 does not mean that homeopathy is endorsed by the NHS or the Government as being an effective treatment.
As the House of Commons Science and Technology Select Committee, after looking at the evidence and numerous submissions and after questioning scientists, homeopaths and others, stated in 2010:
In our view, the systematic reviews and meta-analyses conclusively demonstrate that homeopathic products perform no better than placebos.
And concluded:
The Government should stop allowing the funding of homeopathy on the NHS.
A very clear, concise and evidence-based conclusion. Unfortunately, the Government replied that it would leave it up to individual Primary Care Trusts (now effectively Clinical Commissioning Groups) to decide on the provision of homeopathy in their areas.
So how has homeopathy been faring?
We can get a good idea by looking at homeopathy prescriptions in the NHS in England.
Source data
Data on homeopathy prescriptions were obtained from Prescription Cost Analyses for England provided by the Health and Social Care Information Centre, with the help of a Freedom of Information Act request. These data may not show the total cost to the NHS as some items may be available via routes other than prescription. However, we believe they give a good indication of the number of prescriptions, the costs of these prescriptions and the average cost of a prescription.
Prescription Cost Analysis from 2004–2013
These data are published annually and can be found here. Homeopathic preparations are found under British National Formulary 19.2.3
Prescription Cost Analysis from 1998–2003
These data were published by the Department of Health and are available here.
Collectively, these data chart the decline in homeopathy on the NHS in England over the last 18 years: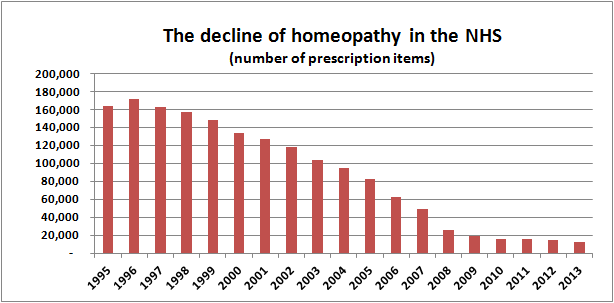 We think these pictures speak a thousand words.
In the near future, we will be looking at where one particular homeopathic hospital gets a substantial chunk of its income from.
03 April 2014
The data for 2013 were released today and the charts now include the new figures.
The downward trend of the last 17 years continues, with a further drop in the number of items prescribed of 15% from 2012 to 2013.
But the cost per item is still increasing, with inflation-busting price rises of 40%, 13% and 11% from 2010 and a further 15% increase from 2012 to 2013, giving a doubling of the cost per item since 2009.
The raw data for the charts can be downloaded here.
02 April 2014
---